We Must Be Doing Something Right. Our Awards
Technology Fast 50 2023
Top Insurance Employers 2022
Canada's Top Growing Companies 2022
Fintech Business of The Year 2021
We Must Be Doing Something Right. Our Awards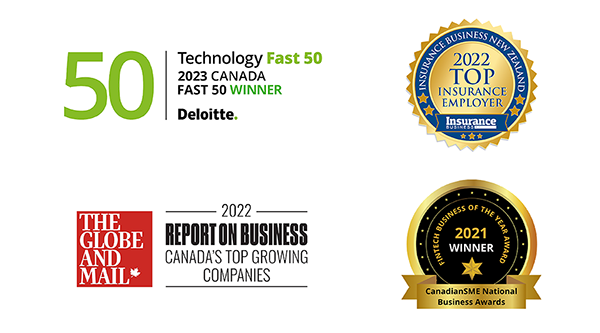 We're Brokers. We Work for You
We don't work for an insurance company. We work for you providing expert advice and choice of insurance providers.
We make impartial recommendations and strive to find the best deal on commercial insurance that's right for you.
Whether a sole proprietorship or side hustle, we can protect it. No business is too small!
Why Our Prices Are So Low
We work with over 50 insurance providers to get low-cost policies covering a wide range of professions.
Our technology allows us to keep costs low and we pass those savings to you.
As Canada's leading small business insurance brokerage, we get the best rates because of how much we sell.
Dedicated Claims Service
We don't just sell insurance, we help if you need to file a claim and provide guidance every step of the way.
Our dedicated claims team is available 24/7 to help whenever you need us.
Switching Is Easy
We do all the heavy lifting when you want to switch insurance providers and save money.
Show us your policy, we'll work to find one with more coverage at a better rate.
If you want, we'll cancel your old policy and get you a new certificate of insurance quickly.
Our most recent reviews
See what our small business customers have to say about us.
Our options for small business commercial insurance coverage empower you to make strategic decisions in your profession with assurance, propelling you toward greater heights.
Whether you're launching a new venture or hiring your next employee, Zensurance will give you peace of mind knowing your livelihood is protected with the best policy available in the market.